Complete Mixer Trucks For Sale
Often contractors and other professionals have a need for a smaller amount of concrete and calling in a large truck to haul a small load is costly, especially when fuel costs are high. No matter what need you have we build mixers of all sizes: 3-yard mixers, 4-yard mixers… all the way up to larger 12-yard mixer trucks, plus 15-yard trailer mixers.
Call us for quotes to repair your Front Discharge mixer trucks.  We build loading hoppers, water tanks, fenders, and chutes.  I also stock a lot of the gauges, valves, and other items of maintaining the mixer trucks.
We can supply most replacement parts needed to maintain your batch plant. When you call with a quote request – please provide Batch Plant Make, Model, and Serial #
Hide Mixer /
Animal Hide Processing Unit
Used for tanning calf hides ready to be shipped.  Mixer unit sizes range from small (2 yard) to large (12 or 13 yard big capacity units).
Unit is wired to your specifications 240/480 volt 3 phase electric – diesel powered engine is available too.  Cable Controls at the discharge end to control pump for drum direction
– On/Off buttons at the rear to start and stop unit.
Many options are available to control costs to our customers. We can make all new including the Electric Motor, Hydraulic Pump and Motor, Gearbox, Drum and Drum Supports. If you want a used mixer your cost may be reduced significantly. We have rebuilt gearboxes, pumps, motors, and drums.
Recycling & Stationary Mixers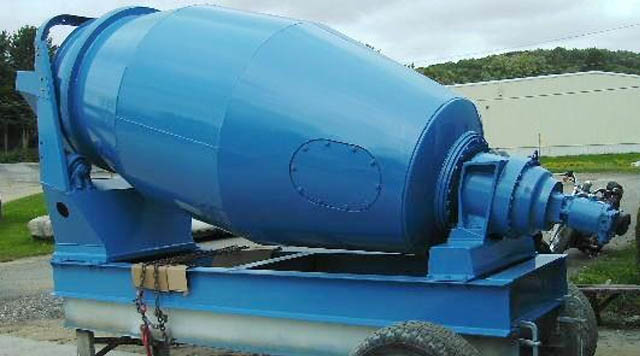 Mixer bodies can be used for many things.  Glass and exotic compound and metal reclaiming, asbestos breakdown, feed and topsoil mixing, coloring recycled car & truck tires for playgrounds, as well as deburring sharp metal pieces.   We can supply units that are new or used.  These units can be taken into mines and other tight spaces where trucks just don't fit.   Call us with your specific needs.